Trying to figure the best drone out there is probably one of the toughest tasks anyone can be given. Even drone experts can hardly pinpoint one drone as the best for everyone. But today, we have got some news that can help you with your search. We have put together a list of some of the best drones out there you can buy on best buy, Amazon, and other online stores. Drones have become more to the everyday person, photographers, and other professionals. From being fantasy devices for nerds, drones are now a part of our everyday lives. And that's good. What's not so good about this transition is that there are now lots of different brands, types, specifications, and options of drones that choosing one could quite cause you a headache especially if you are a beginner to the drone thing. 
Just like the variety of drone devices out there, the prices of drones are widespread and you could get a good drone for almost any reasonable price out there. If you are looking for the best drones out there, we have tried to cover everything in this article so by the end of this review, you should have an idea of the best drone for your needs.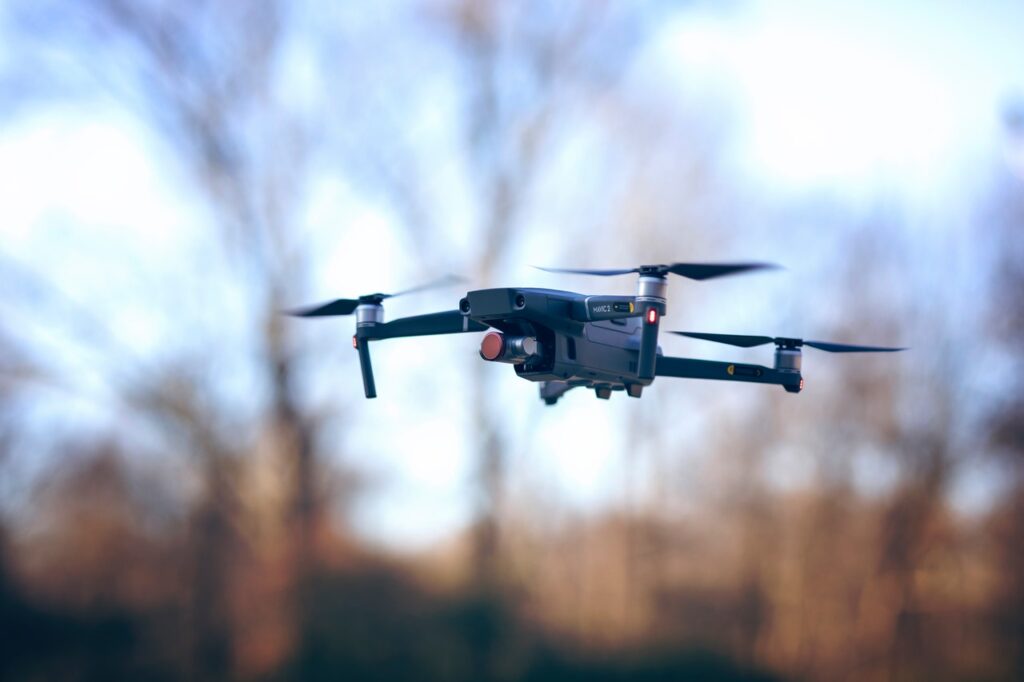 What is the Best Drone Out There in 2022?
1. DJI Air 2S 
Reasons to buy:
Obstacle avoidance sensors (Avoid Collisions)

Great Digital Zoom function

Filters for the perfect shot (Footage or Photos)

Works well for beginners and professionals alike
Reasons not to buy:
Confusing Propeller system

30-Mins Flight time (Average 22- 25 during testing)

Much room for improvement with the APAS (Autopilot)

Crop in 4K 60fps looks (well, not so good)
Review
One of the first things you would notice about the Air 2S is its resemblance to the Mavic Air 2 and its price tag of $999. But beyond these, we experienced one of the best drones anybody can buy. If you are a drone nerd, you should have some experience with DJI. What's new in the 2S is its speed, high-resolution 1-inch sensor which shoots up to 5k video. Even with beginners, the 2S can perform some magic for you with its AI-based flying capabilities giving you the ability to shoot scenes in cinematic moods just by pressing a button. It is currently one of, if not the best drone out there.
Compared to the Mavic Pro, its camera is far better in every way. However, we found that while it does better at taking videos, it lagged when it came to photos when compared to the Mavic Pro. 
Specifications
20MP, 1″-type CMOS sensor

22mm (Equiv.) lens with 88º FOV and fixed F2.8 aperture

5.4K/30p, 4K/60p, and 1080p/120p video

H.264 and H.265 recording at 150 Mbps

10-bit D-Log and HDR video capture

Raw and JPEG image capture

OcuSync 3.0 (O3) image transmission (12 km range)

Four-way obstacle avoidance

APAS 4.0

'MasterShots' cinematic capture mode

31-minute flight time

595g (1.3 pounds) total weight
Should You Buy the DJI Air 2S?
If you are considering buying the Air 2S, you might want to consider some of its good points such as its small size, the 1-inch sensor, the ability of the camera to shoot under even the lowest of lights, and its Airsense feature which basically alerts nearby drones to avoid a collision. On a bad note, you won't have much control over the aperture so if that is a big thing for you, then the 2S may not be the best drone choice for you. The 2S is very much like the Mavic Air 2, so if you recently bought it, you might not need to make the switch just yet. The last con for the 2S is that it is not compatible with the DJI Goggles V2.0. Even though it's rumored that this might not be true, you might want to check for yourself before diving in to buy. 
2. DJI Mavic Air 2
Reasons to buy:
Fast, lightweight, and small

34 Minutes flying time 

Multiple photo modes for taking shots

Seamless connectivity between drone and controller

Great image sensor
Reasons not to buy:
There's a better option: The DJI Air 2S; Image quality lagging behind

Heavier than Air 2S

Auto flight is not as advanced compared to other high-end drones
Review
The days of the Mavic Air 2 are not over. The Air 2S may now be the number one best drone preferred out there, but for those who do not care much for its 1′ sensor, and are willing to sacrifice a few drone luxuries, the Mavic Air 2 is the next best option. Now these two drones by DJI are very similar both in design and specifications. But one of the huge differences between them is the price difference of about $200. The Mavic Air 2 is lightweight, fast, small and easily fits into a small carrying bag and can greatly improve your flying experience. 
Specifications:
Size folded: 180 x 97 x 84mm

Size Unfolded: 183 x 253 x 77mm

Weight: 572g

Max Flight time: 34m

Faster Flight Speed 19m/s

Max Distance: 10km

Sensor size: 1/2-inch CMOS

MP: 12mp and 48mp

Focal length: 24mm

Aperture: f/2.8

ISO Stills (12mp): 100-6400, ISO High-Resolution stills (48mp): 100-3200, ISO Video: 100-6400

Max video resolution: 4K @ 60fps

Max framerate: 1080p @ 240fps

 Max bit rate: 120 Mbps
Should You Buy the Mavic Air 2?
The Biggest differentiators between the Air 2S and the Mavic Air 2 is in the capability of the sensors. The Air 2 has a 1/2 inch sensor and the Air 2S has a 1-inch sensor which is much better. This difference means that the Air 2S can shoot 5.4k/30p or 4k/60p video. Compared to the Mavic Air 2 which can only do up to 4k/30p. This is significant if you are shooting for very specific purposes. But considering the price gap of $200, this single significant difference may not be much of a big deal to spend extra. On the brighter side, the Mavic Air 2 is much more affordable, lightweight, fast, and has really great controllers. Its design is very similar to the Air 2S and there's a lot it could do for both beginners and professionals alike. 
3. DJI Mini 2
Reasons to buy:
OcuSync Flying

Faster and Easier to change Blades

RAW Photos

Really small and portable for trips and field use. 

No Need for FAA registration due to lightweight and other specifications. 

Better performance from the motor upgrade from the previous mini.
Reasons not to buy:
Lack of Obstacle Avoidance Function

No ActiveTrack or Hyperlapse

Lack of Profile Options

No Auto Flight Mode

Uninteresting 2X Zoom Function

The image sensor is small
Review
The DJI Mini 2 is an entry drone that serves a wide range of purposes if you are now getting into the drone world. Perhaps looking for something small, not too pro but just at the high end enough to give you a good drone experience. And of course, not burning a hole in your pocket at a price tag of $449 which is $500 less than the DJI Air 2S and $300 less than the Mavic Air 2. The Mini 2 was released as the predecessor of the Mavic Mini. DJI went with the shorter naming of DJI Mini this time taking out the "Mavic". 
Specifications
249g total weight

OcuSync 2.0 transmission

1/2.3″ CMOS image sensor

24mm equivalent lens (84º FOV)

F2.8 aperture (fixed)

12MP photo resolution

JPEG + RAW images

4K/30p and 1080/60p video (100 Mbps bit rate)

Up to 4X (2X lossless) zoom

31-minute flight time
Should You Buy the DJI Mini 2?
The first mini was okay, designed for absolute beginners but while trying to meet the 250 grams mark, it made a lot of sacrifices which both beginners and professionals weren't happy with. But the Mini 2 is refreshing as it fills most of the holes the Mavic Mini left. It is not just lightweight, but also shoots quality images and videos and is appealing to both beginners, content creators, and professional drone pilots and users. So should you buy the Mini 2? There is no doubt that this drone comes at a low price, is a very portable offering, and requires no registration. It also has a stable connection which you can rely on. The camera is good. You could say it is the complete package for minuscule drone lovers. If this is you, then the Mini is a great choice. Otherwise, the Mavic Air 2 or the more advanced drones would do you more good. 
4. DJI Mavic 2 Pro
Reasons to buy:
Awesome 4k video quality

Mavic 2 Pro can fly up to 31 minutes

Quality design, build, and foldability. 

20MP RAW images

Obstacle Avidance sensors
Reasons not to buy:
Not Waterproof

Could be a Pocket burner (expensive)

Small internal memory (8GB)

Lack of DCI format support
Specifications
1" CMOS sensor, 20 MP (5472×3648)

Resolution – 100-6400 (video), 100-12800 (photo)

OcuSync 2.0 (2.4 GHz and 5.8 GHz)

72 kph (S-mode)

31 flight time minutes (25 kph)

Sensing system: Forward, Backward, Upward, Downward, Sides

Controller Max Transmission Distance; 8000m (FCC, unobstructed with zero interference)
Review
The Mavic 2 Pro is a compact drone that performs well in both photography and videography. It has a 1" CMOS sensor and shoots at 20 MP (5472×3648). The number one thing we need drones (except for flying pleasure) is the footage and image quality we can get. In this light, the Mavic 2 Pro is not a disappointment as it does very well in giving quality footage with its sensor. If you are a fan of color grading and heavy editing, you have the RAW footage do allows you to do all your editing without a sweat. And it checks quite a lot o boxes (considering the price tag of $1,599). It has an impressive build and body construction, which has been tried and tested in harsh conditions like that of the desert. Mavic 2 Pro can fly up to 31 minutes, and has a battery capacity of 3850 mAh.  
Should You Buy the DJI Mavic 2 Pro?
If there is one thing you can buy the Mavic 2 Pro and be satisfied with, it will be the camera and quality of video and photos this drone gives. It's easily the best in the market with its 1′ sensor. It has a great 4k video output, great 20MO RAW images, and a great battery life of 31 mins. For the professional drone user, these 31 mins are precious and lifesaving. For the design and build, DJI did a good job as the Mavic 2 Pro can withstand some of the harshest weather conditions. Lastly, it has great obstacle avoidance which means you have minimal chances of crashing your drone into the wild and even losing it. However, you might not want to get this drone if you want a big memory because this one only gives you 8GB of internal memory which considering the video quality output, won't last any far. The Mavic 2 Pro is also not a cheap buy. It costs a ton and has no support for DCI format. So these are the main things that would help you make a buying decision. if you do not care for the small memory it gives and have no problem spending $1,599 on a drone, then by all means get the Mavic 2 Pro, it would serve you well for a long time to come with its durable build and excellent videos and photos.
5. DJI Mavic 2 Zoom
Reasons to buy:
Has a Hasselblad-branded camera

Powerful, small, and compact

Good wind resistance, less noise in the footage, and a longer flight time of 31 minutes.

Amazing zoom and dynamic features
Reasons not to buy:
Expensive: The starting price of $1,249

Small sensor: standard 1/2.3'' CMOS

Unremovable Camera. You are stuck with it. Great if you love it, but not so great if you want to be able to change it. 
Review
If you are seeing the Mavic 2 Zoom for the first time, you might mistake it for a Mavic 2 Pro. And you won't be at fault. Both drones are very similar in design and specifications. But the Mavic 2 Zoom has a special feature under its sleeve which makes it preferable to the Mavic 2 Pro. The zoom, like the pro, has a great camera. DJI has continually improved camera quality across most of their drones. It is also has a small size. If you are a vlogger or a travel blogger, or you simply do a lot of movement, this would mean a lot to you. Its build is top of the line just like the Mavic 2 pro. It can withstand some of the most disturbing weather conditions. It comes with ND filters to give you flexibility in how your shots look. Most users believe the Zoom has a better aerodynamic design but you may not be able to spot the physical difference due to the similarities with the design of its competing counterpart, the Mavic 2 Pro. 
What's Special About the Zoom Camera?
One of the key differences between the Mavic 2 Pro and the Mavic 2 Zoom is in the lens. The Mavic 2 Zoom has a Zoom lens which gives a 24mm equivalent field of view and a wide view of 48mm. This however comes at a crop of 2x.  The use of this zoom is very practical especially if you are a professional who does very dynamic shots and videos. You have the option of a super-wide view and also the ability to isolate certain subjects using zoom. Even better is that you can use the zoom at 2X at 1080p. The Mavic 2 Zoom goes up to 4X zoom if you like to use the digital zoom in addition to the usual optical zoom. This combination gives a 96mm equivalent field of view. Now, that's mind-blowing. 
Specifications
Sensor Resolution; 12 megapixels

Image Sensor Type; 1/2.1 inch CMOS

Capture Formats; MOV (MPEG-4 AVC/H.264), MP4 (MPEG-4 AVC/H.264)

Still Image Formats; DNG, JPEG

Video Recorder Resolutions; 1920 x 1080 (1080p), 3840 x 2160 (2160p)

Frame Rate; 30 frames per second

Still Image Resolutions; 4000 x 3000

Run Time (Up To) 31 min
Should You Buy the DJI Mavic 2 Zoom?
If you absolutely loved the Mavic 2 Pro and you are looking for a new thrill, the Mavic 2 Zoom is going to give you just that. But if you do not like the Mavic 2 Pro, then the Zoom might do much of a difference unless you are a huge fan of the zoom cameras that you are willing to forgo its little blunders. The Zoom takes everything about the Pro and makes it better. It has good specifications, additional flight modes, and a great camera with interesting zoom features and quality. What isn't there to love about the Zoom? Well, its price is a bit of an issue. At a price tag of $1,798, not everyone would be willing to spend that amount on a drone. But comparing it to the price of the Mavic 2 Pro which is priced at $1,599, you might consider if the extra value is worth the extra price between the two drones.
Best Overall Drone Brand: DJI
DJI stands for Da-Jiang Innovations, a Chinese company under the umbrella company, Shenzhen DJI Sciences and Technologies Ltd. The company is headquartered in Shenzhen, Guangdong, China. It is a private company which was founded by Frank Wang in 2006 (15 years in operation). DJI serves a worldwide customer base with its high-end drones,  camera gimbals, action cameras, camera stabilizers, flight platforms, propulsion systems, and flight control systems. In 2020, DJI was responsible for about 70% of all of the world's drones in the hands of consumers. It is basically the leading and best brand out there. No other single brand has more than 5% of the market giving DJI the market domination. 
What Other Good Drones Are Out There?
Yuneec

Insitu

Skydio

Kespry

Parrot

Aerialtronics

Autel Robotics
How to Choose the Best Drone
Buying a drone, especially for the first time could be a little frustrating if you do not know what to look for. It may not be as frustrating as selecting a smartphone since drones are not as varied in prices, functions, and specifications as smartphones. But they are unique and require certain considerations if you are to make the perfect drone choice. 
1. Budget Consideration
When buying a new drone, The best is usually to start with the budget consideration. The budget you are willing to spend will determine what you can and cannot buy. But that only applies if you have a limited budget. By the way, the most expensive drone is The Freefly Alta 8 at a price tag of around $17,000. But you do not need $17000 to buy a drone. The best consumer drones could be bought at around $1000. Prices generally vary from a few hundred to a couple of thousand. 
2. Questions to Ask
First, you would need to identify the purpose of the drone. Would you be using it for the purposes of play thus a hobby or for professional purposes? Also, how many hours of flight time would you need? If you are using it for professional purposes, you might need as much time as you can get so you don't get stranded with a beast drone with no power left to run it. You would also need to ask if you would be taking aerial photography and videography? One of the technical things to also consider is the Range of flight or how far you want to go high.
3. Camera
The camera is the number one thing or reason why we buy drones. It, therefore, is the main thing to consider especially if you will be using your drone for photography and videography. Quality is very important here. You would need to look at the Sensor. The best drones out there could probably have a 1" CMOS sensor. Consider the Pixels, Resolution, and the Gimbal which are responsible for stability in the video. The last thing you should think about is if you want Live feed footage as the drone goes round. This is a good idea so you can see in the first person what the drone is capturing. You do not want surprises after you have left the shooting scene. 
4. Build Quality & Durability
When it comes to building, drone users look for compact, weight, and materials used. Most professionals have lots of equipment to carry and wouldn't want a heavy drone.
Consider the Flying time. The best drones we have seen yet go as long as 32 minutes. Consider how good the Gimbal is. The 3-Axis Gimbal with the pitch, roll, and yaw are great.
If you don't want your drone to make lots of noise, get a drone with brushless motors. Availability of spare parts and the ability to replace parts is definitely what you should think about if you intend to use your drone for a long time. 
5. Specifications & Features
Specifications of devices such as drones and smartphones could easily become a complicated issue but with a few specifications and features, you can know whether a drone is what you want or not without getting too nerdy. One of the things to look out for is the range of the device. How far can it fly? If you put it in the form of a question. Also, does it have Integrated GPS navigation? This feature would allow the drone to work with satellites to know its location in the world so that it can easily return home and find places. This works well with the GPS home function and the follow-me feature. Obstacle avoidance is one of the important things to look out for as well. You don't want to be crushing your drone all the time. Drones are quite easy to crash especially if you are a beginner and still finding your way with the controls and navigation. However, the best drones you can find on Best Buy are typically more stable and work well with the software to make controlling the drone much more enjoyable than one full of turmoil. 
6. Battery Life
Would you be able to replace the batteries? What about the battery capacity and flying time? We find that the propeller speeds all impact flight time, flight radius, and more so you might want to get nerdy a bit and seek these details out. The best drones on best buy typically have about 30 minutes of flight time. You can use that as your benchmark when shopping. 
7. Software
The software is part of the drone experience. Most software is advanced and user-friendly. But you should figure out which ones are better for you. Consider the Controllers and how they work with the software. The best drones out there have seamless software that works smoothly and integrates with your preferred flying options whether app or controller. 
8. Legal Requirements
The last (or perhaps the first?) thing to consider is legal. Drones are in a way like airplanes and for some drones and in some geographic jurisdictions you may have some legal obligations to register your drone and apply for permits. It doesn't end there as there are often restrictions and more. Be sure to find these out on the local level where you stay and when you are flying outside of your state. The best drones on best buy often require some registration and flying licenses. Take notice of your local laws. 
Conclusion 
In a way, having a drone could be a very fulfilling adventure for anyone. There are lots of options on best buy and Amazon. The latest generations of drones are so good that anyone would be able to enjoy a drone with a little budget although you may have to sacrifice a few features. They also have advanced features and specifications which make them a delight to use whether you are a professional doing your work or a hobbyist simply having fun and exploring the world. The best brand when it comes to consumer drones is the Chinese company DJI which makes 70% of drones in the hands of users out there. In their top line, the best drones for both beginners and professionals alike are the DJI Air 2S, DJI Mavic Air 2, DJI Mini 2, DJI Mavic 2 Pro, and the DJI Mavic 2 Zoom.