Introduction
Drones are some of the devices that make kids happy, and depending on the one you buy, may develop their aerial flying abilities even at a young age. The best drones for kids range from highly expensive to under $100 toy drones that give kids the much-needed thrilling flying experience. Flying drones are not only fun but can also be educational for children. Drones have lots of features that children can use. The varying features and types of drones out there make it difficult to choose, however. The best drones for children have an excellent altitude hold which makes flying easier for the child, cameras for capturing images, and propeller guards that help save your kid's fingers from injury during take-offs and landings. 
If you are looking to buy the best drone possible for your child, you may have already noticed that that isn't an easy feat. There are simply so many toys that your child may not be happy with, features to consider, and more. To save you the time and stress of searching forever, we have rounded up some of the best drones for kids ranging from the highest of features to the lowest of features and ease of use. Complex drones may take away all the fun as your child may not be able to fly them to satisfaction. Understanding the types of drones will help you decide which is best for your child as well as acceptable in your location.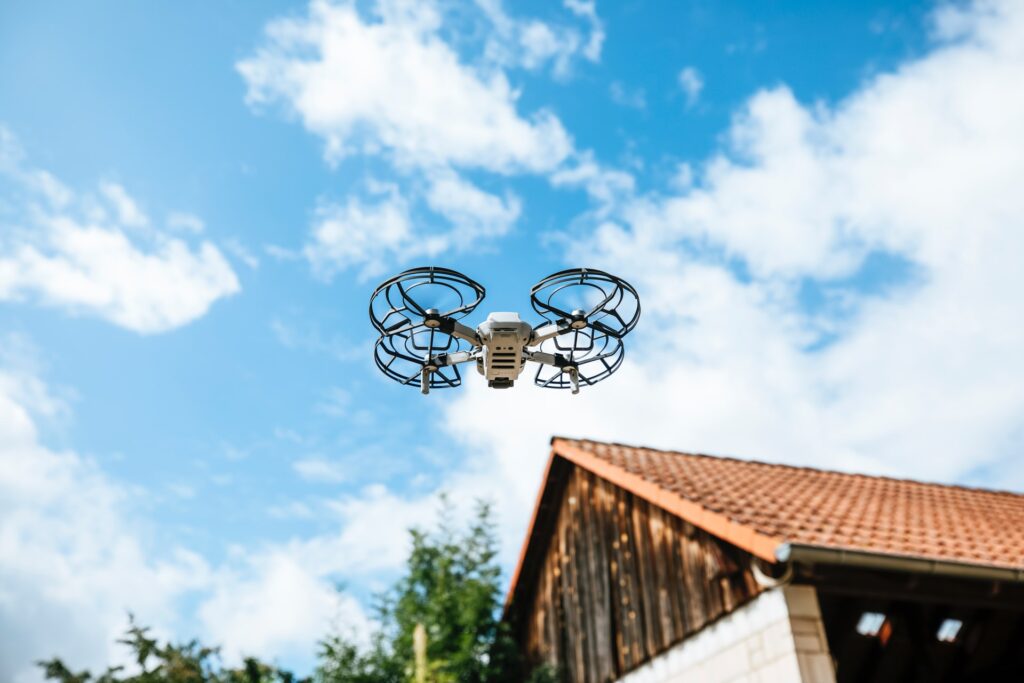 Types of Drones For Children 2022
Indoor Vs Outdoor
Drones are primarily either suitable for indoor or outdoor flying. While there are also drones that may make it both indoors and outdoors, you may find that they perform much better in one of both environments. You will find that most of the best drones for kids are made for indoors with higher-end ones being able to give excellent performance outside as well. 
For children, the best types of drones are indoor drones. Flying indoors is much easier and less exposed to the weather. You can enjoy a drone indoors just as much as outdoors. Some of the reasons indoor drones are best for your child are:
Great for practice

; it is much easier to learn to fly, focusing on only flying as compared to flying outside with all the distractions from the weather. Also, having your kid indoors is a plus as not many parents would love to have their kids outdoors without some form of supervision. An indoor drone saves you all that stress. 

Same Fun

: Indoor drones can be very fun to fly and to play with friends.

Indoor Drone Racing

; playing with other kids is probably going to make your child's experience much better. Racing against their friends indoors is worth the fun it promises. 
Toy Drones vs Enthusiast Drones
Toy drones are notoriously low priced. But the low price isn't the only way to determine a toy drone. With each passing day, new features are being added to low-budget high-quality drones and it is increasingly difficult to tell a toy drone simply by its price. Toy drones are typically small and could fit into the palm of an adult. Prominent features of toy drones include low-quality cameras and in some cases, no camera. We mentioned altitude hold as something to look out for when shopping for kids' drones, toy drones typically lack this feature. If you want to find the best drones for kids, then you need to look for a good balance between your child's needs and the drones on this list. 
However, it is important for smooth landing and take-offs of your kids' drones. Altitude hold aids new drone owners as it smoothens the flying experience for them allowing them to focus on a few controls. The Crazepony Quadcopter Mini is an example of a toy drone with the altitude hold feature. It also has an FPV camera despite its small size. Most toy drones are fun for kids and can make them happy. However, the majority of toy drones have a woefully short flying time of around 5 to 10 minutes and about 20 to 30 minutes of charging time. Most drones, whether toy or enthusiast, come with batteries. 
Most toy drones do not have a GPS. The few that have are quite expensive and could cost around $200. Take the Hubsan H4 X502E that has a GPS, a 720p camera with no FPV, and lacks camera stabilization. This means you would have to shoot footage that you cannot see live which will also be shaky and in the bad quality definition. There is simply more to be desired from a toy drone. but they do make for good flying experiences for kids as they are less complex. Toy drones with altitude hold are much better; they are easier to fly. 
Compared to enthusiast drones, toy drones lack a lot of features and specifications. Toy drones also come at a lower cost as enthusiasts and professional drones could cost thousands. The $3400 DJI Inspire 1 PRO is probably the most expensive of them yet. But you do not have to empty your pockets just to get your kids a drone. With a bidet of $300 to $600, you can get a decent enthusiast drone with fancy features, a quality camera, and a better flying experience. Some features to look out for in enthusiast drones are GPS, 1080p and above camera quality, 15+ minutes flight time, camera stabilization, subject tracking, return-to-home, and auto-land. Some enthusiast drones include the DJI Mini and the DJI Spark. The Yuneec Breeze is a great alternative but it comes with no GPS even though tests indicate that it's quite good without the GPS and is stable. 
Best Rated Drones For Kids (Overall Best Children's Drones)
1. DJI Mavic Mini
Reasons to buy:
No FAA registration required

Small and lightweight structure

High-Quality Camera with 3-axis stabilization

Close to 30 minutes of flight time

Superfan to fly
Reasons not to buy:
No ActiveTrack feature

Lack of RAW image and video capture

Not very visible in the sky due to its small size. 

No 4k Video
DJI Mavic Mini Review
The technology space is full of either great or crappy devices. In some cases, as in the case of the DJI Mavic Mini, the company is able to have such a balance between features and price, which is one of the main problems of tech products. They can easily become expensive when you are shopping for your pro needs. The Mavic Mini is different. It is so small you could fit it into your pocket. Its size is not nearly as impressive as its performance. It has a good pack of pro features while limiting weight, size, and price for kids and beginners to play with. 
First impressions of the Mavic Mini would be its incredible size and weight (DJI had to strike balance to keep it a bare minimum). Of course, it looks sleek as well. It weighs 249 grams which is a single gram away from the FAA registration threshold. Drones weighing 250 grams are legally required to be registered. The Mavic Mini so your kid doesn't have to register their drone which is a relief to many. However, registration is not a tedious process, but who wouldn't have a narrow escape like this?
The flying experience is quite good. We use "quiet" because, unlike more professional drones that are heavy enough to handle wind, the Mavic Mini isn't very good at withstanding the wind. While it performs much better as compared to expectations, it cannot compare to others like the Mavic Pro.  It is also difficult to see when it gets too high for you. While the camera view may help you navigate, that is for professional drone flyers. As a beginner, you might want to have the drone within sight so that you don't lose your drone. It flies an average of 26 minutes which is quite impressive since that is the range of many pro drones out there. 
Apart from being able to fly well, one other major aspect of a drone is its camera. The Mavic Mini is a compromise and perhaps you shouldn't expect any 4k. But it does have 2.7k which is decent for normal use. 
Specifications
Size folded: 140×81×57 mm (L×W×H)

Size Unfolded: 159×202×55 mm (L×W×H)

Takeoff Weight: 249 g

Max Flight time: 30 minutes

Faster Flight Speed: 3 m/s (S Mode)

Max Distance: 4km

Sensor size: 1/2.3" CMOS

MP: 12 MP

Focal length: 24mm

Aperture: f/2.8

ISO Stills (12mp): 100-1600 (Auto), ISO High-Resolution stills 100-3200 (Manual), ISO Video: 100-3200 (Auto), 100-3200 (Manual)

Max video resolution: 2.7K:2720×1530 24/25/30 p

FHD:1920×1080 24/25/30/48/50/60 p

Max framerate: 1080p 60 fps

Max bit rate: 40 Mbps
Should You Buy the DJI Mavic Mini?
The Mavic Mini was a revolution in the small drone market. It brought into the game a lot of things beginner drone users appreciated while making sure it was also appealing to some professionals. However, it is not the best for all professionals. It has a decent video but its 2.7k video could easily ruin any 4k footage in a project. Photographers and videographers would prefer to have a consistent resolution across all photos and videos in a project. If you are a photographer, this may not be the best for doing work. The Mavic Pro is more suited for work. 
But this review is not for photographers, right? So, that was by the way. Is the Mavic Mini good for kids? The simple response would be, Yes. While its camera may be less impressive for professional photographers, it is sure to impress your kid and help them capture some of the best scenes around the house and when you go on vacation. The drone is a great choice for learning as the drone comes with some pretty standard options with the option to use the app as well. 
The Mavic Mini is incredibly small and could fit into your palm. Its weight has already been highlighted. It doesn't require registration in the US, But if you are outside of the US, you should check your local laws regarding flying drones. 
A tip here would be flying the drone within eyesight. Letting it out of sight may be the easiest way to lose your drone. 
2. Potensic A20 Mini
Reasons to buy the Potensic A20 Mini:
Toy Drone, Perfect for Kids

3 Batteries Total

Flight Modes for added fun

Rugged and Durable Design

No FAA registration is required (US)

Small, Not Heavy Design
Reasons not to buy the Potensic A20 Mini:
Best Suited for Indoor Use Only

9 Minutes Per Battery Flight Time

Low Flight Time

No Camera

Better Alternatives at Price Range
Potensic A20 Mini Review
The Potensic A20 Mini drone is a toy drone. And before you say anything, do hear what this review has to say about this tiny fella because it may turn out, it is exactly what your kid needs.
Just like the Mavic Mini, the Potensic A20 is a very small and lightweight drone. But unlike the Mavic mini, the Potensic is much smaller and weighs much less. At 126 grams, you don't need to register this drone. 
The size is great for kids and at the same time, it's not so good for outdoor use as it can easily be taken away by the least amount of wind against it. While it may not be the best for outdoor use, it is great for indoor use and seems to be made for indoor use. Its body and design is rugged enough to withstand crashes indoors from household items and walls. The body looks compact and stable enough to survive almost anything indoors. 
The Potensic A20 has a battery set of 3 which allows you to fly for up to 21 minutes according to the company. Tests show that the average usage for each battery is 7 minutes taking about 30 mins to fully charge. This isn't very impressive compared to pro drones. But unlike pro drones, this comes at a very cheap cost and the 3 batteries give you a longer duration of fun. 
One major feature of drones within this price range dont have cameras, and the Potensic A20 is no exception. It has no cameras. Rather, its twin or better half, the Potensis A20 W comes with a "makeshift" camera. It packs a 480p camera at the front of the drone. While this may make you happy, the footage is less than impressive but good for the experience it gives and the relatively decent images you can get from it. 
As a drone for beginners, the Potensic A20 should be looked at from the point of view of the person who will be flying. One of its main highlights is that it is incredibly easy to fly and perfect for children who are learning to fly drones. If you want the added First Person View (FPV) flying experience, the Potensic A20W is the best alternative that provides you with a camera. For instance, all your kid needs to do is to pull down the control stick and release the left, then press a button dedicated to taking off or land-based on the action.  The controller is a quick response device that doesn't lag between commands and drone movements. This should be a smooth operation anytime when flying. One of the features that would ensure a smooth flying experience is the "headless" mode. This mode is great for new drone flyers. It is responsible for making sure that regardless of the direction of the drone when the left is pressed, the drone always moves left. This is necessary because the drone will not always be in a similar position to the pilot and that could easily turn into a flying nightmare for new pilots and even some pros. 
Specifications of the Potensic A20 Mini
Size: 3.5 x 3.1 x 1.25 inches

Takeoff Weight: 136g

Max Flight time: 7 minutes

Faster Flight Speed: 3 m/s (S Mode)

Max Distance: 15m

Capacity: 180mAh

Charging time: 30 min

Features: Altitude Hold/One-key Take off/Landing
Should You Buy the Potensic A20 Mini?
The previous drone, the Mavic mini is expensive and you may not want to spend that much on your first drone. The Potensic A20 takes away the fluff and leaves you with a pure beginner flying experience. While "the life" may have been taken away as it comes without a camera, you can easily get the upgraded A20W if that is your fancy. It is easy to fly and has flight modes to easily get started on the fly. The A20 is perfect if you want to learn the art and science of flying at a very low budget before launching onto the higher-end drones. It makes a great toy for any kid who loves to play indoors. Its rugged and steady body will withstand wall crashes and help any child stay indoors without sacrificing the fun. If that sounds like your kid, then this is the drone for you.
3. Snaptain S5C WiFi FPV Drone
Reasons to buy the S5C WiFi FPV Drone:
Standard Controllers

Comes with 2 Batteries

Comes with Camera
Reasons not to buy the S5C WiFi FPV Drone:
Best For Indoor Use Only

Not so good phone connection

Better Alternative drones
S5C WiFi FPV Drone Review
The Snaptain S5C is feature-rich and has several features that other drones in this list do not have. It packs a robust build with a few negligible concerns and fixed arms. It allows you to take off and land with just the push of a button. You can perform a backflip, altitude hold, and return with a single button as well. It might also surprise you to learn that The Snaptain S5C also comes with a camera capable of shooting 720p video and stills. To crown it all, the drone comes with a controller and has other smart control features such as gesture and voice controls. With the camera and controller, you can experience FPV flying enhanced with the headless mode and trajectory flying. As we said, this drone is packed with features.
However, when it comes to performance, the best it does is to fly. Using the drone is quite difficult despite the controller, gesture, and voice feature it comes with. While flying outdoors could easily turn into a nightmare as the drone can become its person in the midst of unstable weather, you are better off flying this drone indoors. It seems the company made the drone indoors. It doesn't have any foldable parts. This doesn't make it easy to pack and is best used at one location, say your house. 
The video footage and stills are not the best at 720p. Due to the unstable flying nature of the drone, as well as a not-so-good connection to the phone, it's quite a task to get good shots you can frame or share with friends. 
While this drone has a lot to offer, we feel the company focused too much on getting in as many features as possible and never specialized in making it great at any of the things it does, including flying. 
It may be a good beginner drone as it doesn't break the bank. It is also good for learning before upgrading to the bigger, more expensive drones like the DJI Air 2S. When it comes to value, you may not get the best of value for this drone. But as we said, anyone looking to buy a children's drone with a few "great" options as most cannot provide you the best of features, hardware, and experience all at once. The best chances are that such a drone is good at one of two things that appeal to your child. That would be one of the deciding factors if you ask us.
Specifications of the S5C WiFi FPV Drone
Product Dimensions: 13.9 x 9.7 x 3.3 inches

Weight: 137g (inc. battery and blade guards)

Batteries: 2 Lithium Polymer batteries required. (included)

Motor: 816 Coreless

Control Range: ≤80M

FPV Range: ≤40M

Maximum Flight Relative Height: 80M

Flight Time: 8-10 mins

Charging Time: 90 mins

Photo Resolution: 1280 x 720

Photo Format: JPEG

Video Resolution: 720P

Video Format: AVI

Video stabilization: Yes

App support: Yes

VR compatible: No

Flight distance: 80m

Flight height: 80m

Number of batteries: 2

Controller included: Yes (batteries not included)
Should You Buy the S5C WiFi FPV Drone?
When we look at the $100 drone range, most of the drones are bare-bones and do not provide much of an experience than they just fly. But quite a few stand out such as the Ryze Tello. The Snaptain S5C is one of such drones too. However, The Snaptain S5C is a far cry when it comes to experience. Drones are good for flying, but a lot of things go into making that flying experience great and memorable each time. It's no doubt the drone is packed with features, however, with the not so decent flying, the joy in these features soon jumps out of the window before you know it. It is a great toy drone but will leave you wanting more. For its price, there isn't much to be expected from it. It does just enough to be above average yet manages to make a somewhat less than impressive flying experience. It fulfills the basic requirement of a drone in its price range, to fly. 
4. Altair AA108
Reasons to buy the Altair AA108:
720P HD camera and Good HPV mode when flying

Built-in Protective Guards

Comes with an SD card slot  for recording footage and images

Has a stylish design

Good for beginners 
Reasons not to buy the Altair AA108:
Does Not Come with an SD card

The flight could be erratic at times

An easy target for wind disturbance

The camera isn't stable hence video could be distorted

No GPS
Altair AA108 Review
The Altair AA108 is ideal for those who are just beginning to fly due to its custom flight modes like headless mode, high altitude hold, and follow-me features. If you're searching to find the Best Drones, you do not just need a top-quality FPV camera as well as an impressive flight time. 
Also, if you're looking for one of the Best Drones for Kids, an altitude hold feature is a great option for developing their skills. The AA108 can be used indoors as well as outdoors. Its lengthy flight-time and two batteries keep you enjoying even more. Easy to fly for all Skill Levels The AA108 offers three flight levels: with one button to take off and land in altitude-holding, as well as headless mode. 
It is easy to master and is perfect for pilots who are just beginning their journey. The advanced flight capabilities are ideal to explore as one gets more proficient. The A108 Drone is ready for use once you remove it from the box. The AA108's flight experience brings smiles to drone pilots regardless of their skill level. 
The HD Camera with 720p resolution and the integrated 120deg Wide-Angle Camera make it possible for first-person-view (FPV) flight. You'll be taking stunning birds' eye view pictures and videos using your mobile device. 
The AA108 comes with a 100-meter flight range with 7-10 minutes of flight time. In addition, the drone comes with two Batteries. This will mean more time for pilots right from the package. The AA108 is carefully-constructed with durable plastic. It's built to withstand the impact of crashes while pilots develop and develop their flying abilities. It offers an easier and more stable hover than other drones, making it more reliable and simple to use for pilots who are new to the sport. 
Altitude Hold assures stable flights because the drone is flying in the air, without any input from the user. This makes it easier to snap amazing pictures and enjoy a better flying experience. When you begin to learn how to fly the AA108 provides you with three levels of skill to increase your enjoyment! From intermediate to advanced You'll be able to progress with the AA108 as you get more comfortable. 
The Altair brand represents high-quality products made with customer needs in mind. We are meticulous about every detail and provide our drones to people of all kinds of ages and levels. As a customer, we pledge to treat you as we would like to be treated while developing new products that we are sure you will be awestruck by. 
Specifications of the Altair AA108
Dimensions: 183mm X 198mm X 43mm
Weight: 85 grams
Range: 300 feet
FPV range: 120-150 feet
Flying time: 8-10 minutes
720p camera
Manufacturer recommended age: 14 years and up
Batteries: 2 Lithium Polymer batteries required. (included)
Flight Time: 10 Minutes
Should You Buy the Altair AA108?
The simple answer is yes. We will tell you all the negatives about this product. The video is not very good due to the instability of the camera. The wind is probably not the best friend to this drone. But these are problems you face when you fly it outside. While flying outdoors is fun, most drones within the price range as well as kids drones are made for indoor use only. While they may be able to function in the outdoor environment, their natural state can be experienced indoors. And this drone is absolutely good outdoors. Its footage is also much better indoors. If you are flying it outdoors, then it should be close to you and in weather conditions that are not too much for its capabilities if you are to have the best experience. 
5. Holy Stone F181W
Reasons to buy the Holy Stone F181W:
Good for beginners

Comes with a 720p HD camera and FPV support

Mobile App and Controllers for flying
Reasons not to buy the Holy Stone F181W:
The camera footage is not good enough

Unstable outdoors and windy weather

FPV is not the best

10 Minutes Flying Time

Not a very robust build but has propeller guards
Holy Stone F181W Review
The Holy F181W Wi-Fi is a low-cost drone that does better than what you would expect. And its a good fit as one of the best drones for kids. It's simple for anyone to learn to fly and offers numerous challenge levels to aid in improving your abilities over time. If you're in search of an unmanned drone ready to fly to learn to fly or master new techniques, the F181W is among the most cost-effective options with a price of under $100 (with control). The F181W has a camera that can record high-quality 720p video. Although there is no information about the megapixels of the camera I would guess that the resolution of the video is 1280×720 pixels. That gives the F181W a megapixel number of 0.9. It also features an expansive 120deg view angle, which ensures a wide area of view. The F181W has a variety of flying options, including an altitude-holding function that allows for one-key take-off, landing with a six-axis gyroscope "headless" mode, as well as 3 axis flip technologies. The F181W comes with a dual-joystick 4-channel remote that includes a holder for phones. It also has two D-pads to navigate through menus. Live feeds of the video to your smartphone via an application.
Specifications of the Holy Stone F181W
Drone Weight: 4.9 Ounces (FAA Registration NOT Required)
Dimensions: 12.6(L) X3.3 (H) X12.6 (W) Inches
Video Recording: 1920×1080P
Quadcopter Battery: 3.7V 750mAh Lipo Battery
Controller Battery: 4 X 1.5V AA Battery (Not included)
Charging time: 60-90 Minutes
Operation Range: about 50-100 meters
Flying time: 8-10 Minutes
Should You Buy the Holy Stone F181W?
For those who are new to flying or those who are just beginning, the Holy Stone F181W can be an excellent start to your flying journey. It is a very affordable price and the camera quality of this drone is quite good. And as it's affordable, you will be able to upgrade to a much better high-end drone without feeling as if you have wasted your money on it. It's an excellent start for those who are just starting with flying.
Its price isn't a compromise on the most important aspects, like its capacity to record amazing videos and stunning photos and possibilities to help it fly better. It's very safe for beginner pilots and is highly recommended for safety.
Best Indoor Drone For Kids
Potensic A20/Mini

Holyton HT02 Mini Drone

Holy Stone HS330
Best Outdoor Drone for Kids
Hubsan X4 H107D+ FPV Camera Toy

Flying Spinner Toy

Ryze Tech Tello
Best Children's Drone with Cameras
DJI Mavic Mini SE

Holy Stone F181W
Best Budget Drone for Kids 
Snaptain H823H

DROCON Drone for Beginners X708W

Syma X5C 4
Conclusion
The best drones for kids are some of the hardest to buy. It is either this feature or that specification that you have to sacrifice. But that is mostly okay, as far as you know what you are looking for, you can make the necessary sacrifices. Chances are already that your kid doesn't need all the features and specs. With a small budget for buying a children's drone, your kid can quickly learn how drones work and how to fly before getting into the high-end drones that are more expensive but also offer more flying time and a much better experience. Some of the recommended high-end drones are the Mavic Pro from DJI.