If your goal is to get into the drone nerd world with the best mini drones, then you have come to the right place. We have put together this beginner list of the best mini drones that offer great value. These small drones are perfect for kids, amateur pilots, and new photographers. 
What Is A Mini Drone?
A mini drone is small by design and often fits in your hand easily. These do not necessarily toy drones. They are quality, have a good build, and the best ones come with high-end specifications that can compete with the best drones on the market. Mini drones are characterized by their small size, but that doesn't define what they can and cannot do. Drone makers have constantly broken the bounds of what mini drones can do. 
What To Look For in The Best Mini Drone
Most of the mini drones out there are extremely limited in what they can do. But that does not mean you have to sacrifice your drone flying experience for a mini drone! No. But you do need to know what to look out for when searching for the perfect small drone. These small drones are perfect for travel and can be really engaging for kids to play indoors. 
Cost
Mini drones come at low prices. So, that is good. But not entirely. Drone manufacturers have to make several sacrifices to keep the size small. They also have to keep the weight and other things to a bare minimum to meet legal requirements for small drones that do not need to be registered with the FAA before you can go on using your drone. The good thing is that you can always buy a new one when it gets snapped by the wind or hits a snag and refuses to start. Most of these drones cannot be repaired as easily as larger drones. 
Wind Resistance Capacity
Mini drones are tiny. They become vulnerable to the dear wind if they get too small. You don't want to lose your drone to the wind. So, you need to check for its wind resistance. Even the best mini drones have a tough time withstanding the wind outdoors. If you want to use your mini drone outdoors, then be sure that it has a brushless motor. 
Battery Life
Mini drones are characterized by small batteries. But there are some gems out there with good battery capacity. If you are looking for longer, fun flying sessions, you can be slightly unforgiving about your battery requirements. 
Camera Quality
You probably have an idea of what to expect from a mini drone camera. Guys, you can't get quality images with these, but you can find some with 4k, although they have somewhat less than impressive output. The DJI Mini 2 is one of those best mini drones that defies the odds with a good camera and still meets the mini drone criteria. 
Durability
Durability among the best mini drones varies. However, you can purchase one with prop guards to keep it from getting destroyed from hitting objects. Durability also means the material used to build it. Is the design compact enough? Or are there loose parts even before you start flying the thing? 
Control Range
You have seen those cinematic commercials of drones with nice views and want to take similar shots. If you don't get the control range right, you are in for a treat. Most of the best drones out there offer miles of control range. But the best mini drones can only do between 100 and 130 feet. This delimits how far you can fly your drone and even how high you can do so. 
Pros and Cons of Mini Drones
The best mini drones are usually very small. This comes with its own advantages and disadvantages. They can easily be enjoyed anywhere and are more suited for indoor use. They can be carried anywhere. One good advantage of small drones is that you do not have to register them (most of them). If you are getting started, a beginner or simply want a drone for your kid who has been bothering for one of those toys, then a mini drone is a good place to start. They pose less danger and are fun to fly.
On the flip side, mini drones come with some baggage that you would have to carry as a best mini drone owner. They typically have shorter battery life reducing the fun you get with each session. If you are looking to do some photography or even videography, a mini drone is a bad choice. Sorry, folks! In all, mini drones simply have little to give in terms of specifications, features, and sometimes build quality. 
What is the Best Product Out There in 2022?
1. Autel Evo Nano drone 
Reasons to buy the Autel Evo Nano drone:
Great camera

4k at 48mp and 1/2 inch sensor.

Three-way obstacle avoidance feature
Reasons not to buy Autel Evo Nano drone:
Isn't as fast

Not so great software; glitchy firmware 
Autel Evo Nano Drone Review
DJI has long been the king of the best mini drones, but there is a new king in town, and he ain't messing with DJI. The Autel Evo Nano drone takes what a mini drone can do to the next level. It is credited as the first drone commercially made for ordinary drone pilots, giving DJI a run for its money. It is also pegged at 249g, just heavy enough to avoid registration. But it packs a 1/2 inch camera that is complimented by a sleek 4k resolution and a powerful 48mp.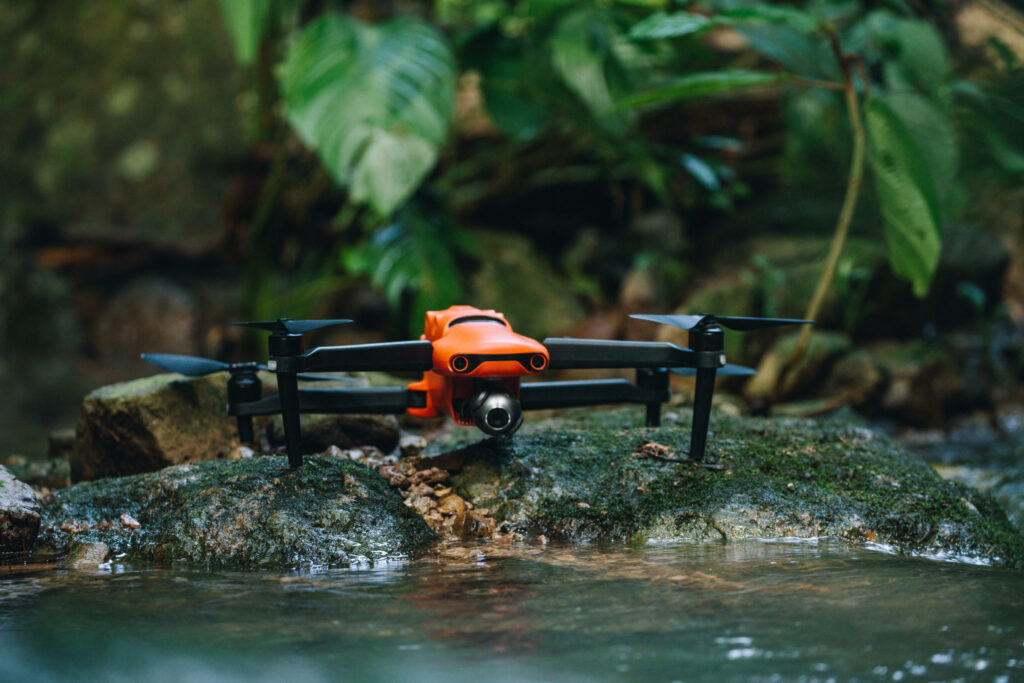 For a small drone is this, the least you expect is a quality build and perhaps a decent camera. Most drone manufacturers have failed to live up to consumers' expectations as set by DJI. The Autel Evo Nano fills that void. DJI now has a contender that directly competes against the DJI Mini 2. Interestingly, its design is similar to that of the DJI Mini. You may be unable to tell the two best mini drones apart when they are in the air. 
For a beginner, automatic shooting modes are the trick you need to take cinematic and breathtaking shots and footage. The Evo Nano is equipped with four different modes that work automatically. Just wait and have great memories made. The Auto Sky app can help you with post-production if you want to add soundtracks and filters to your work of art. 
The drone is capable of flying for up to 28 minutes. That is a little lower than the DJI Mini 2, which goes on for an extra two minutes. 
2. DJI Mini 2 
Reasons to buy the DJI Mini 2:
Great camera with 4k video

Perfect size, Quality build, and portable

Up to 31 minutes of flight time
Reasons not to buy DJI Mini 2:
Camera is average

Requires CAA/FAA Registration (not a big problem)
DJI Mini 2 Review
The DJI mini drone is a truly unique small drone. Its size is satisfyingly small to fit the pocket. If you don't have a problem carrying your iPhone 11 phone with you, you will have the same experience with this mini drone. It has a four-prop arm fold system that allows it to fold into a very portable cute bag. When its arms are spread wide, it has a width of 245mm and 289mm in length. It is 56mm tall. Although it was made to escape registration, the regulations were changed to include it yet again. That led to DHI making the Mavic mini drone which is listed in this list of the best mini drones. You only need to register the drone and pay an annual fee. But you wouldn't have to take a test before you can fly. 
The DJI Mini has an incredible camera and can be used to take stunning videos and photos. It packs a 1/2.3" CMOS sensor and a gimbal to give you smooth and crisp footage. The resolution is on point at 4k with 30fps and 2.7k with 30fps. For 1080p, you get 60fps. If you are looking for even better shots and want to zoom into subjects, then the 4x zoom feature in the 4k mode is something you would find amusing. The result is 12mp detailed shots in both JPEG and RAW formats. 
The DJI Mini has a smoothly designed joystick that takes your flying to the next level. This is one of the reasons it is on the list of best mini drones. It makes flying a drone look like flying a real helicopter. Or in some flight simulation. The experience is immersive. It is easy to fly, making it suitable for drone pilots of all skill levels, even beginners. It flies at 22mph when in the normal mode and 36mph if you go the sport mode way. It may look like an iPhone, but it can go as long as 31 minutes which is impressive. You can enjoy extended flying sessions with a few extra battery packs. It has GPS support and a stable feel even in moderate wind. 
3. DJI Mavic Mini 
Reasons to buy DJI Mavic Mini:
Affordable Price

2.7k Camera That Doesn't Suck

Small and lightweight (under 250g)
Reasons not to buy the DJI Mavic Mini:
Flies over a limited range

It has a better upgrade; the DJI Mini 2
DJI Mavic Mini Review
Let's say we turn the time machine back to 2019; the Mavic Mini would have been the best mini drone from any drone brand. Of course, DJI has dominated for that long! Although the Mavic Mini has seen an upgrade, the DJI Mini 2 is still a good choice if you are not looking to spend a lot but want the DJI quality. 
We could say the Mavic Mini was the small drone that truly designed what mini drones could be. It came in a small size, lightweight at less than 250g, and still packed a 2.7 camera lens. The camera is also great and can help you take the best photos and videos. It comes with similar quality to a smartphone, so that is decent at least. 
4. Potensic A20 
Reasons to buy the Potensic A20:
Durable build

60 meters range

It comes with three batteries

Altitude hold
Reasons not to buy the Potensic A20:
No camera

6 minutes flight time
Potensic A20 Review
The Potensic A20 nano drone is one of the few best mini drones that doesn't come with a camera. It is perfect for beginners who are only interested in flying compared to taking videos and images. It is sizable enough to be flown outdoors and also enjoyed indoors. 
The Ptensic A20 has a quality build, making it a good choice if you work with a strict budget. It has prop guards to prevent crashes from affecting the drone itself. Although it has a short flight time of just 6 minutes, it comes with three batteries, so you can simply replace them to extend your playtime. 
The Potensic A20 comes with a good controller that enhances the flight experience even if you are new to this, making it perfect for all drone users. It has the build quality to withstand crashes. And that is something you want in your mini drone, which can easily be taken away by the wind or strong air. 
5. DJI Tello 
Reasons to buy the DJI Tello:
Good price

Use for learning

Portable

Controller options

Flights Modes

Image stabilization
Reasons not to buy the DJI Tello:
You have to buy an actual controller if you want it

Not at its best when outdoors

Flight time is limited
DJI Tello Review
The Tello has been in our best drones list and our list of kids drones for a reason; it is that good. Although it has been for a long time now, that doesn't take away what it can do. The Ryze Tello is a fun little drone to fly. It has a twist to it that makes it suitable for kids and people who want to take programming seriously from the basic level. It is great for indoor use and outdoors when it isn't too windy. Its camera is not so good, but it is good enough to take pictures and videos. At best, it is your selfie drone and has optical image stabilization. 
At its bottom are sensors for keeping the drone steady during flying. The drone can be controlled with the mobile app. But you can get a Bluetooth-enabled controller on the market. With a wifi extender, you can get a good 100m to range out of it. 
6. DEERC D20 Mini Drone 
Reasons to buy the DEERC D20 Mini Drone:
Gravity sensor mode

One button takes off and return
Reasons not to buy the DEERC D20 Mini Drone:
DEERC D20 Mini Drone Review
The DEERC D20 Mini drone is a joy to fly and one of the best mini drones. The brand is known for its affordable drones. But they are also durable, high quality, and worth the experience. The D20 Mini drone has a 720p camera that goes with FPV. You can use the camera to stream a live video to your friends, family, or social media followers with just your smartphone. Pictures and videos also look good when taken with the camera sensor. 
Its design is a smooth stealth jet-like feel that looks cool. It isn't just a pretty drone. It also has some cool features. It is equipped with a gravity sensor that works to enable the mode. It also has a single-button take-off and return-home function that is a relief if you are a beginner pilot. If you are looking for fun and cinematic shots, you need to look at the 3D Flips. 
The downside of the DEERC D20 Mini Drone is that it has about 7 minutes of flight time in it. This should be a consideration if you don't mind short playing time for more quality flying time. 
7. Walkera Rodeo 110 
Reasons to buy the Walkera Rodeo 110:
Light and Agile

Foresight lighting

Carbon fiber build for crash and collision resistance
Reasons not to buy the Walkera Rodeo 110:
Not so fast for a racing drone

It could use a camera upgrade

Difficult to control
Walkera Rodeo 110 Review
The Walkera rodeo 110 is a different breed of mini drone. It is one of the best mini drones for racing. So, if you want to do some competitive sport with your drone, then the Walkera rodeo 110 is a good choice. It is perfect for starters, especially for indoor racing. It weighs just 146g and has a range of 100 meters. 
FAQs About The Best Mini Drones
What Is The Best Mini Drone?
The best mini drone out there is the Autel Evo Nano drone. It is a fantastic drone, and one of the first drones to dethrone DJI is a critical category, such as the best mini drones. However, the most impressive mini drones are from DJI, such as the Mini 2, Mavic 2, and the Tello. 
Is It Legal To Fly A Mini (Small) Drone?
Yes. It is legal to fly a mini drone. However, depending on your country and region, some laws may be required to abide by. The US FAA requires that drones of 250g and above be registered. Also, you may need to take some tests to get your permit. In addition, there may be some annual fees to enjoy the privilege of flying a drone. 
Are Mini Drones Any Good?
Yes. Mini drones are great for a lot of purposes. Most especially, many of them come at great prices if you consider their value. You can get into flying drones with a mini drone and move to more expensive and higher-end drones when you are confident in your flying skills. Mini drones are also perfect for kids who want to experience the fun of piloting at home, during camp, and in other locations. If you are looking for a perfect way to freeze memories of your family vacation, trips, and fun activities, then one of the best mini drones can serve the purpose of taking videos and images. The DJI Mini 2 has a great quality camera. 
In sum, they are fun and can be used in racing for taking great selfies and recording your adventures. 
Their small size makes them portable and handy. They can serve as your second phone when you need to take aerial shots with a cinematic feel and look at them. 
How Much Does The Best Mini Drones Cost?
A mini drone can cost anywhere from under $100 to $1000. 
Are Mini Drones Worth It?
Yes. A drone is a tool that satisfies your needs. There are enough mini drones with varying degrees of functions, specifications, price, and quality to get the perfect one for your needs. 
Conclusion 
The best mini drones are little perfect "smartphones" that can fit in your pocket, hand, or backpack if you are a backpacker. Depending on your budget, you can find a fitting drone. Our list has drones of all prices from under 100 dollars to a thousand. The priced Autel Evo Nano has made it to number one. But remember, it is just like the DJI Mini 2, and the Mini 2 beats its flight time. Consider your own needs and choose one of these. Regardless of which of them to buy, you are in for some fun-filled and exciting flight sessions.