Introduction
Finding the most effective and fun Drone for less than $500 can be an exhausting task. There are many things to think about, and it could quickly become difficult to make sense of them. It's not easy to master the technical jargon and determine which one is the best option for your requirements. It can be difficult to shell out that amount of money on something you're not certain about.
We searched the internet and analyzed many drones under $500 to bring you the best drones for less than $500! In addition, we have reviewed the drones for you, along with some of the best deals online, to ensure you don't waste time and cash on a product that won't work for you as well as you imagined! Here are the best drones under $500. Let's dive right in.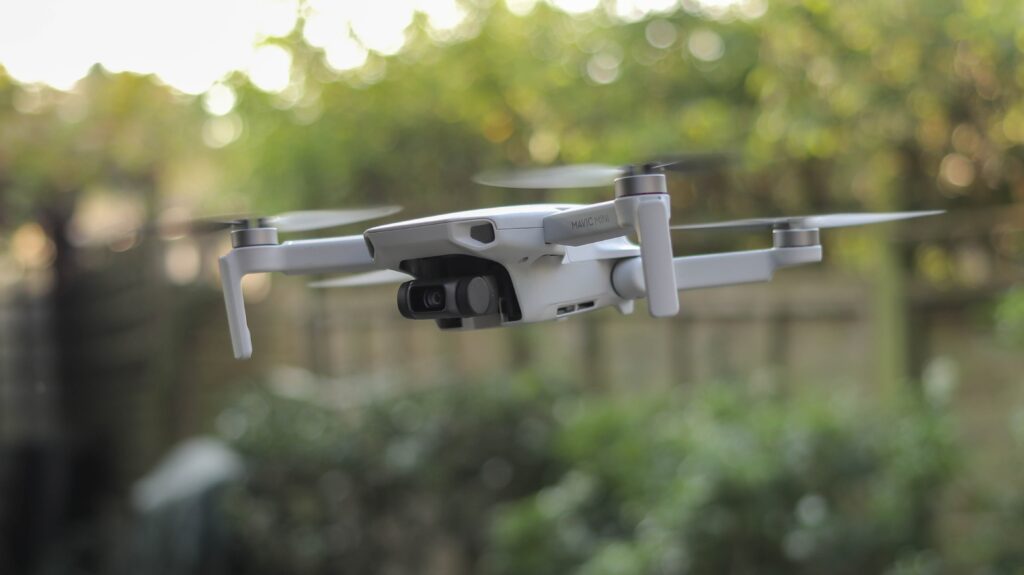 Best Drones Under $500: Affordable Aerial Photography?
1. DJI Mini 2 (Best Drone under $500)
DJI has quite a lot of drones for almost every budget and the Mini 2 is one of the best drones under $500. The DJI Mini 2 has a good folding arms design, and the well-known brand has made this Drone easy to carry and transport. The drone arms must be opened in a particular order and then folded in reverse in order to carry it out for some fun, flying or professional use. This can take some time to get acquainted. However, it's easy to master without much hassle. Most drones under $500 are packed with features which mostly under-perform. The DJI Mini isn't one of those drones under $500! Its features work fine, which is a plus. 
If the propellers and the arms are folded up, the Mini 2 is about the size of a large coffee mug (a typical drone under $500 size), which makes it easy to pack in a backpack and even in a spacious jacket pocket. The most useful feature can be the straps that you can purchase with the Drone. The strap is available together with the Drone to keep the propellers and arms in place when folded and ensure that nothing falls out of place or breaks when carried. We still recommend using protection bags and a case to avoid scratches if you choose to pack them into your backpack. 
With the Mini 2, the landing gear is very small, and the Drone could encounter some difficulty finding enough lift and staying clear of grass blades. If you are planning to do most of your takeoffs and landings from your lawn, then the use of a landing area can help you with this issue or decide to launch from an actual driveway or sidewalk.
The DJI Mini 2 is a great drone for beginners looking to test drones that provide users a smooth, simple flight experience and a decent quality video and photo option. The 12MP camera that comes with the possibility of saving to Raw will produce photos suitable for many everyday tasks. The upgraded 4K video with some cool flight features can give you amazing video images.
Most drones under $500 are not good for professional photography. But the DJI Mini 2 can fit in when you are in need of one. If you're searching for professional camera and flight modes that allow for more sophisticated autonomous flight and camera shots, you won't find them on this list. To avoid objects, get the MOV video file type when taking footage, and an even bigger and better camera sensor, it is recommended to upgrade to something similar to Mavic 2 Air or Mavic 2 Air, or Mavic 2 Pro.
Alternative to DJI Mini 2: DJI Mavic Mini
The DJI Mini remains one of the most user-friendly drones on the market. While Mini 2 was launched in April 2020, the Mini 2 succeeded in April 2020, introducing 4K video capability and Ocusync-based transmission to provide a superior range, raw photo capability, and more; the Mavic Mini is still an excellent purchase in 2022.
The Drone comes with a 30-minute battery life, which is more than the 10 to 15 minutes offered by other drones of this size, especially prevalent with kids and toy drones, which we covered in a previous article. It also records smooth aerial footage thanks to the three-axis Gimbal.
The Drone retails for $399 which is definitely under $500, qualifying it for your budget. However, it's an affordable option for those wanting to enhance their drone footage and beginners who are looking to learn about drone flying.
If you're looking at the features, it is clear that, as you can see, the DJI Mavic Mini is an excellent choice for your needs. With these amazing features and many more, this Drone is the perfect investment to capture high-quality videography or aerial photography every time.
2. Hubsan Zino 2 ( Best Camera Drone Under $500)
The Hubsan ZINO 2 drone is an ideal beginner drone under $500. If you are a skilled drone pilot, you will find it good as well. It is priced at a fair cost for all the amazing features it comes with. The Hubsan also has an option for tracking that is extremely useful, and where it can track anything you desire, such as when you are making an epic walk in the park. You can use the tracking mode to track and record your walk automatically. It also comes with various other useful modes that make flying much easier and more fun.
Hubsan Zino 2 drone is packed with a 4K camera and WiFi connectivity, allowing FPV functionality and GPS connectivity for ease of routing. The Zino 2 can go as long as 6 km using FPV, and it also comes with a strong battery of 3800 mAh capacity.
The camera comes with an FOV angle lens with an amazing range of up to 80deg, giving an excellent view of your videos. The Drone is capable of tilting its angle, and the max tilt is 25 degrees in the normal mode and goes up to 35 degrees in the sports mode.
It can also connect to a WiFi network. This feature with the Follow-Me mode and dual GPS makes it easier to capture self-shots as you perform certain activities. The drone tracks you and captures all video and images. It also comes with an advanced return home feature that allows the Drone to fly a short distance and return to you.
The drone itself is quite easy to figure out and fly and will provide you with the amazing aerial shots you'd want in a drone under $500. And the excellent features it comes with can help. It comes with a 3800mAh battery that will provide you with plenty of time to capture.
If you're looking to purchase an FPV drone, this is a good choice. It is compatible with FPV and can travel up to 180 meters and return home with just one button. The Drone has plenty of good reviews from numerous users as well. 
Alternative To Hubsan Zino 2: Hubsan Zino
Despite its small size, the Hubsan Zino drone offers a variety of features within its price range. It is a good alternative to the Zino 2 and falls in the drones under $500 mark. 
The Hubsan Zino is a complete change as it has an actual 4K camera equipped with a Sony sensor and an image processor from Ambarella. These specs come with interesting features that make the drone among the top drones for under $500. The Hubsan Zino isn't the most costly, but when compared to its rivals and has many similar features. It's a drone ideal for all levels, from novices to experienced pilots, particularly those searching for an affordable drone with a 4K camera for under $500.
The controller has a similar design to Mavic Pro which feels like a glove, and its buttons are readily reached. It has a smartphone connector on the bottom, but there isn't a connection for quite bulky devices such as tablets.
The drone can be controlled using the RC or even your phone. To use smartphones as controllers, you'll have to install the X-Hubsan application, which is available on Google Play and the App Store. The app offers other features such as restricting the distance that the Hubsan Zino drones will fly, FPV smart flight modes, mapping navigation, and more.
The app is simple and user-friendly. However, there are issues such as connectivity. Many users have complained that the application consumes excessive power and drains the phone's battery very quickly. But, they make regular updates, which means that certain issues are likely to be fixed.
3. Xiaomi FIMI X8 SE2022 4K (Best Photography Drone Under $500)
The Xiaomi FIMI X8 SE2022 4K drone is great for aerial videography, and this Drone is an affordable alternative to DJI Mavic for both novice and expert drone pilots. The new model has a better camera and a longer flight range, and it also offers improved weather protection (wind and rain) compared with the X8 2020 version.
The FIMI X8 2022 comes with propellers that are easy to install that are also easy to attach and remove. There are two types, clockwise or anticlockwise blades, which must be secured in the correct order. A strip can match the arm and propellers, and it is a good idea to unfold them manually before you set off.
Everything feels well built and solid structurally. It's only available in Arctic White or Gray, which is a minor detail if you aren't a colour buff or too critical about how it appears on the outside.
The Fimi X8 Mini is a great entry-level 4K drone if the DJI Mini 2 is not an option. It's portable and light enough to fit in the sub-250g category. It can fly well in all weather conditions, produces decent photos and videos, and has excellent battery life. DJI's offering is more comprehensive, feature-rich, and overall better than Fimi's. We believe it's well worth the extra expense.
4. DJI Spark (Old, but Gets the job done)
It is easy to get in the air and capture photos and videos with the DJI Spark. It takes just 10 seconds to pull it out of your pocket and turn it on. Then you can launch it from your hand in about 10 seconds. It doesn't need to be paired with a remote control or mobile app; just raise your hand, and it will enter gesture control mode. You can then send it to take aerial photos from about 20 feet away. This is extremely liberating and enjoyable. Its smart features make it one of the most enjoyable drones under $500. 
Although the Spark is targeted at drone admirers out there, it shares technology from the Mavic, like obstacle detection, dual-band GPS, and a visual positioning system that allows it to hover indoors and outdoors up to 98ft. DJI also mounted the Spark's full HD camera on a 2-axis motorized glider, which allows for smooth results and doesn't compromise image quality. DJI also took their gesture controls to the next level by using the Drone.
The DJI Spark can be easily packed and carried wherever you want. The 12MP camera is powerful enough to take great photos and withstand decent winds. Although the camera has a 4K sensor inside, it can only record 1080p video. You can use the additional pixels to stabilize the image with HD video resolution. The Spark stabilizes movement on two axes using sensor cropping, and this allows for side-to-side image stability. Although this is the worst DJI drone video capture in 5 years, it's still quite good and definitely worth fitting in the drones under $500 class. The Spark's small size and low price make it worth considering.
Depending on wind conditions and how aggressively you fly, the battery provides between 12-15 minutes of flight duration. The best part is that the power level never drops suddenly, and the battery is firmly attached to the Drone. It takes approximately 40-50 minutes for the battery to charge fully with the wall charger. You don't have to take the charger with you on vacation. However, you can charge it using a standard Micro USB cable. But this will slow down charging.
It all depends on your goals, but the Spark is my favourite starter drone. The Spark is easy to transport, safe to use indoors and outdoors, and has enough power to take amazing images for social media. There is no better drone under $500 for the casual user who wants to try this technology without spending a fortune.
5. DJI Tello (Perfect for Learning Beginners)
The Ryze Tello is not the Drone for you if your goal is to use it for videography and photography. You can't use it for long-distance flights. A DJI Air 2S drone can be a better choice if you are aiming to photograph. It can take you up to 30 minutes. It is still an excellent device for beginners in drone flying. You might want to fly your quadcopter around the neighbourhood and enjoy the experience, but not necessarily with videography. You can take decent photos, but not as many videos. The Tello can only fly at 8 m/s or 17.8 mph. If it is hijacked by wind, you'll have to chase it down. It's only $99 to fly away if it gets lost, so it might not pose a problem as much as a $1000 drone. The Tello can fly a maximum distance of approximately 100m. The Tello comes with a one-cell battery that can last you about 13 minutes on average. It is very easy to use the Tello drone. You can control it with your smartphone or other mobile devices. We must warn you that the app does not support many devices. The app has many cool flying modes that you can activate. Once you have done this, the Drone will start to fly around you or take photos.
DJI Tello is a great drone and worth the money. It is affordable and one of the most reliable drones in its price range. The Tello is not available on most drones in this price range. You only need a mobile device with WiFi to get started. There is no need to learn complicated controllers or other flying stuff. You could program your Drone to move in a certain way if you're a techie. This is great for kids who are learning to code. It is very light, which can be both good and bad. Avoid flying it in windy conditions. It has very long battery life. It doesn't have GPS, but it does a great job of keeping track of its position and returning to the landing site.
6. Ruko F11 Pro 4K Drone
The Ruko F11 Pro is a great choice for beginners looking for a drone that can be used as a flight controller and yet a great drone under $500.
There are many camera drones that have GPS built-in, such as the Holy Stone HS720E and DJI Mavic Mini. A drone that is lighter, more aerodynamic, and simpler to fly may be the best choice.
This Drone is made of high-quality aluminium and offers superior durability as well as protection from possible mid-air impact.
The batteries are packed with 2500mAh of power to provide a long playtime that should allow you to capture the footage you need for your home videos and even a video documentary. The GPS module makes it easy to record high-quality videos.
The Drone's intelligent flight functions make flying fun and easy. You will have an enjoyable piloting experience thanks to functions such as headless mode, one-key landing/takeoff, return home, and follow me mode.
The small controller is easy to hold in your hands and allows you to fly the Drone comfortably.
You can capture high-resolution videos with the 4K UHD camera and clear stills for your social media posts. This Drone's gesture control makes it even more fun to take photos.
The Ruko F11 has advanced features that will make even the most seasoned drone user proud. This Drone is a great value for money, especially considering the price.
For enthusiasts who are looking for a low-cost quadcopter, the Ruko F11 is an excellent choice. It's easy to use, and it has high-end features that will please both amateur and professional drone pilots.
This Drone is for you if you have $300 to spare on a quadcopter. I doubt you'll regret your decision!
Drones Under $500 You Should Have on Your List; Noteworthy Mentions. 
While there are lots of drones under $500, not many of them provide the best value. Maybe those on this list do not meet what exactly you are looking for. Here are some honourable mentions we believe you can add to your consideration list. 
Holy Stone HS720 4K

Repair Two

Potensic D85

Holy Stone HS720

Altair 818

Parrot Bebop 2 Drone

DJI Phantom 3

Walkera F210

Syma X400 FPV Drone

Force1 F100GP Ghost Drone
Conclusion 
It's unlikely that you will be able to fly a top-end drone if you are new to the hobby, and it makes sense to get a low-cost yet powerful option. This is especially true when you consider that many drones on this market have similar capabilities. It can be difficult to choose from the many options available, as each one will suit some of your specific needs.
It is well-known that drones are differentiated by their image quality, flight time, and design. To compile this list, we've carefully analyzed all the top options in this sector.
Many drones under $500 are between toy drones and high-end drones. But that does not mean that all under $500 drones are toys. We have selected and reviewed some of the best drones under $500 that are not toys for you to choose from. These drones are still high-quality drones, even though they cost less than other models on the market. These drones can be used by both novice and expert drone pilots as they have various flight modes that make it possible to make decent flight sessions without having to be skilled. You don't have to spend a lot on a drone if you can find one for as low as $500.
You won't likely find a drone that is great across all departments, specs, and features. You should settle for what you want and not pay attention to features that you have little to no use for. Some users will enjoy a fast FPV racing drone, while others will want a stable platform for aerial photography, while others will try their luck with a beginner drone.
Whatever option you choose, make sure it has the right specifications and feature combination to give you the maximum satisfaction you need.